arts
Weekend Interview: Ben Crick Wielding His Baton Over A New Orchestra
Ouch! Ben Crick has just arrived for our interview to tell me more about the newly reformed Yorkshire Symphony Orchestra and his arm is in a sling.
Not good for a conductor I remark.
Ever cheerful he says: "Or a cellist! No, I came off my bike and have my shoulder pinned but have managed two gigs recently. Social distancing helped. Restrictions meant we were only allowed to perform for 50 minutes, and we used smaller repertoire Vivaldi and Mozart.
So, no need for over extended arm waving!
"It's taken me back to my early days setting out on my journey as a conductor. To start you're taught to conduct with one hand. It was Richard Strauss who said the conductor should only use one hand. Which I disagree with but for now it works."
The 42-year old conductor has reformed the Yorkshire Symphony Orchestra and I am keen to find out why in the middle of a pandemic.
For me, the zenith of the art form is the live performance of a symphony. It sums up what it is to be human.
"Ultimately we've got a new normal. There's been this vast change over the last two years, and we've come out of it with a desire to get back up and running as quickly as we can."
"This was an opportunity to put a modern twist on something that was quite a big deal in 1952. I want a link to the past but approach it in a different way. Now seems the perfect time to do that. And why not? It's really exciting as my motivation is constantly to make music."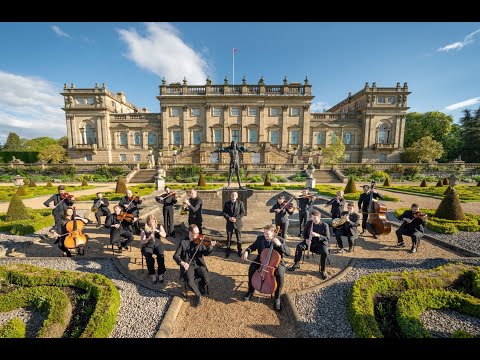 "It's amazing that Alan Bennett was around at its creation and it's wonderful that he is also involved."
Quite a coup to get national treasure Alan Bennett, now 87, who used to attend performances of the YSO as a boy at Leeds Town Hall on board. Ben also has the brilliant wordsmith and Bard of Yorkshire, Ian McMillan signed up too.
There's also a serious side to the formation of the YSO; the pandemic has seen several musicians lose a lot of work and so for Ben, the ability to create work is a lovely thing to do and great to be able to book musicians for gigs and pay union rates.
"It's vital. To be frank, if we don't do this the great creative industries that we've got will be done for, so we urgently need to re-energise and revitalise this industry."
"There have been many attempts to get the YSO off the ground. It's incredibly easy and several people over the years have done it only to find through one thing or another they have barely done a gig and it folded."
The key, I suggest is to create something that's got longevity which hits the right note with Ben.
"Yeah. The big plus is it's not just down to me to do everything. I am concentrating on the artistic direction, and we have Jamie Hudson concentrating on funding to ensure we have a sound financial basis behind this venture."
It is refreshing to hear a conductor can work collaboratively on a coherent business structure.
"There are a lot of people who are artistic and have creative experience and fantastic ideas that they can bring to the table. I have been working for nearly 20 years, but to make this a success there must be coherence of artistic and financial ideas linked to a sustainable business plan. That is the Holy Grail - isn't it? And I think we've got it."
"I'm really excited. I think of it like this. We could do Kurt Weil's first symphony and yeah, it's great but if no one is paying to listen you are not going to make money on programming it unless somebody's thinking of this as a business."
"I found it a frustration that people don't realise if you haven't got proper sound financing you can't do unusual repertoire. Without backing you could still do it as a one off gig but there is no money, and these professional musicians need to pay the mortgage."
For Ben it is about understanding everyone's financial situation and he knows conductors that don't have the contextual element about applying life situations to a business proposition.
"What I've learned is musicians have to work but there are some where I have a sense that they haven't needed the gigs to pay the rent, buy school uniforms or worry when the car tax is due."
"This idea that musicians are separate or aloof from society is nonsense. Every musician I know, professors, friends and colleagues are pragmatists as well as creatives and those two ideas coming together is powerful."
As the waiter brings us our coffee, I ask Ben about the different elements he must consider in programming a concert. In between pouring coffee and asking me if I want milk he says:
"It's a fine balance. You've got to keep the players happy with repertoire but there's also an audience element to this."
"Our September gig at Harewood House is all about people. It's about getting people onside all pulling together. When manufacturers build a car, it is easy to see the finished product and then it is sold, and it makes money. That's not the same with music - it's a people game."
"Harewood House will be ClassicFM's finest to be frank. It's an immensely popular classical music concert with Alex Jones compering. For the opera buffs there's international soloist Sir Willard White, who is as good as they come. I have to say I am excited to be conducting Sir Willard as he inspired me when I was about 16 when I had a CD of him performing Tippett's
A child of our time
with Richard Hickox. That's what got me into music."
However, put the popular aside and Ben picks up on how he plans to programme concerts of the YSO going forward.
"We need a good mixture of repertoire as that boosts funds. But we need to do something else, and my niche is Ernest Farah, a Harrogate man, unfortunately killed on the Somme in the First World War and teacher of Gerald Finzi."
"Farah wrote these tone poems, and I will not lie, they are not as good as Strauss, but nevertheless still worth performing. All of them, except one, have been recorded once by the Philharmonia Orchestra conducted by Alistair Mitchell."
"The manuscript is in the Bodleian Library in Oxford and the librarian is going to send me a photocopy so I can turn them into to a proper edition. That's my niche I want to do unknown Yorkshire music. Of course, that is not making any money but it's of such artistic interest."
"That's why I am delighted to do Harewood House with Aled Jones. Genuinely, I've no snobbery about it. I'm excited to be there in front of all those people with those great soloists but I also want to be able to do the obscure artist stuff, which you can only do if you've got a proper business plan."
"I am also hoping it will be of interest to the Arts Council who may be able to offer us a grant."
Ben oozes his Yorkshire roots and is looking forward to travelling all over the four counties. He's passionate too about music in the north.
"The north is rising, to quote Game of Thrones and it will rise."
"We have plenty of talent up here, but we need to see a rebalancing away from London and a southern emphasis."
"I don't begrudge London, I really don't, but we need to say it's crazy that London's got two opera companies and God knows how many orchestras, plus the copious professional choirs. Up here in Yorkshire we have Opera North and Northern Ballet, our two full time groups, plus the Northern Sinfonia in Gateshead and of course Manchester. There are great swathes of the country with just brutal under provision, so yeah, I am enthusiastic about addressing that and that doesn't mean dumbing down."
"If you play anyone the first movement of the Elgar Cello Concerto, and don't change it, shorten it, or edit it, but just play it, I am convinced anyone from any walk of life can sponsor that emotionally coz it's a masterpiece. We don't have to dumb down the art to make it appeal to people we just need to present it in the way that's honest. Come to the gig buy a ticket have a listen and see if you like it."
"It might not be an art form for everyone, but it is definitely one off for anyone. I am comfortable with people trying it and not liking it, but it should be in a form for anyone that wants it. That is my mantra that is what I think."
We get around to chatting about how classical music is perceived and what needs to change to attract different audiences; Ben is clear on his strategy. He wants to move away from the stuffy image of concerts.
Already throughout this interview this proud Yorkshire man with his broad accent is already using a different language, he swaps concert for gig. Is this his way of widening out his art?
"I don't know. If you are asking why more young people aren't interested, it's one of the great myths. It is anecdotal and I've no statistics to back me up, but I'm convinced that the music is not the issue. I'm sure if you went through their phones and their Amazon Music or Spotify lists, there will be bits of classical music on there."
"The ceremony of the concert alienates a lot of people. For example, there's a group called Avenue Ensemble, which is doing a gig in Northern Monk Brewery and its five young musicians in their early 30s are performing bits of Schubert's piano quintet and a few arrangements, presenting it in an open fashion. Don't dumb down the music but remove the slightly quasi-religious surroundings of the concert hall and the perception that you clap here you don't clap there, or you sit there. If you get rid of that I am convinced people will like it."
"You should clap when you like it not at designated points."
"I often think when people go to an opera, they think it is not welcoming or that classical music is not welcoming. It is not classical music people saying that it is people having this idea of the art form from 20-30 years back and that's what it is."
"I've never been to an opera where I have been laughed at for wearing the wrong thing or for not understanding the music. This idea that you're not part of the club and therefore not welcome I haven't seen acted out. I turn up in my jeans and my t-shirt sounding like a Barnsley coalminer and no one ever gives me grief, I think it people's perception that's ingrained."
Ben explains that the BBC did its bit when Benjamin Britten composed his television opera
Owen Wingrave
in the 1950s. If you want to seek out classical music, access has never been better with the internet and using Google to search there is more there than popular culture.
"It's going to be hard. With the YSO we are new and have to build our audience, but I have been experimenting with my other band the Skipton Camerata for years and I'm going to bring the same techniques across. You subsidise tickets, for the under 25s this is what everyone's doing Opera North the Halle etc."
"What about taking chamber music to pubs and clubs? Meet the young people where they already are. But I'm also quite keen not to get obsessed with opening up to young people and anyway what does young people mean?"
"Take my mother for example. She comes to loads of classical music and she's always liked classical music, however between the ages of 28 and 45 when me and my sister were kids she didn't go to ought as she had to balance her life. So, this idea that we've got an ageing audience, yes, we have, but who's got the time and space in their life?"
"If they're engaging with classical music via, recordings or listening to podcasts and they've got an interest in the art but don't find time to come to concerts until they're that bit older, when their life frees up that is all right, as long as the constant stream of 50 year olds still come."
Podcasts could be a terrific way of engaging younger people and an effective outreach technique as well as a powerful educational tool.
"I am forever invited on other people's podcasts and putting stuff out on twitter or Instagram. It seems to be well received with plenty of people engaging with it.
"I don't think it turns into ticket sales per se, but it certainly engages people they are engaging with our art form and commenting."
"Let me illustrate. I did the Vivaldi E minor
Bassoon Concerto
recently with Linton Stephens who is a 6 foot black guy and he wore a dress and red snakeskin boots. A brilliant musician who smashed the Vivaldi. It has gone all over Instagram and breaking down barriers."
For Ben it is about getting the message over that we are normal people and again he illustrates his point so well. At the same concert Dave Tollington played Mozart's
Horn Concerto No 4.
Dave has an excellent CV. But after a beautiful rendition of the Mozart, he had to get back home as he was up at 7am the next morning delivering for Tesco.
"These are the stories that normalise the fact that we are just people passionate about what we do but grounded and based in the real world."
"I don't want it to become a kind of Yorkshire Andre Rieu. I want to contribute to a creative and artistic voice for the north. I want to do contemporary music, unknown Yorkshire composers from the past alongside a creative and artistic narrative that's contemporary."
"I want it to have a voice to represent the post-industrial north of England that's what I want to do. But how to do that, I am not quite sure yet. Jamie and I will have discussions with the Arts Council and got a couple of private funders I need to chat to."
"But I want to tell that story. Life has changed. There is a digital revolution we need to embrace which is going to affect us in ways we haven't seen since the early 1800s. The questions arise how we deal with this as it is fundamental to how society goes forward, and our art must ask that question. That's what the YSO must do, contribute to the discussion. It's gonna be incredibly hard to get people to hear."
When we think how automation is touching different areas of our life it is central to a new way of thinking. Will robots play instruments, will artificial intelligence be able to compose music on a whim?
"David Colton is an American computer academic who uses the computer to write original compositions. It's remarkable. He has put everything by Bach, Mozart and Stravinsky in the computer and it has amalgamated it all and learnt from the different compositional styles. Now it is shoving out new things. You can hear David Colton's music on Spotify he has written a nice composition."
"It can be used quickly for documentary backing music, which has been the mainstay of lots of composers. We need to work out how humans fit in!"
But I ask, will it replace live music?
"I hope not, I think I'm atypical I love sitting in a row in silence listening to Mahler symphonies. I love it. For me, the zenith of the art form is the live performance of a symphony. It sums up what it is to be human."
"It's all there in the sound which for me is everything that's the art form. I am atypical. People want shorter snippets. Society is heading towards everything being shorter now and whether we go with that or provide the antithesis we must however appreciate where society is, but we can also say here is a moment to have your space to have your reflection a moment of mindfulness. But remember the moment is in the live performance. I want the 2 or 3 minute snippets to function as a funnel towards building a communal experience where we can listen to an hour long symphony."
"My 11 year old lad is a case study he plays viola he won't practise for half an hour he is part of how we have changed society."
"We need to sell the benefits of here's your space out of the rat race and here's your moment in the sun. That, of course, demands you turn your phone off, take time off work before you come to the concert so you can be in that moment. Don't come tired and knackered so you fall asleep in your chair, I want people to turn up sit there and be present in that moment and just listen and engage with the sound."
Again, it's refreshing because Ben is clear on taking the best of the past and mixing it with what is happening in Society today. He will even consider those people who are working on hybrid models that don't have to work 9 to 5 who could come out to a concert at various times.
"Some of us can remember when little snippets of classical music were used everywhere. It is not all pervasive, so we need to start right at the beginning and reintroduce people to the world and then hopefully funnel them in the direction of symphonies like Mahler 2"
Lunchtime recitals are proving to be popular in the cities across the country. Ben reiterates his point about going out to meet people where they are.
The audience must be part of the plan going forward. There is no point just performing to keep your players happy it is two-way and must be collaborative and, as Ben is proving, to do this successfully a good business plan is a necessity.
Making music relevant to people is important and Ben says his ideal concert would have, a mixture of contemporary music coupled with masterpieces from what's gone before.
I also point to the issue that music is not mainstream in schools and potential audiences are estranged from it. Music is not part of the norm and being squeezed from school curricula. Something must be done to halt its decline.
Thinking about how to engage young people Ben tells me that he has a concert coming up that is based on the forthcoming environmental conference being held in Glasgow later in the year.
With his other orchestra the Skipton Camerata he is getting young people involved through COP26.
"COP26 has given us the opportunity to perform Beethoven's
Pastoral Symphony
, along with a new commission all about climate change. It's for school choirs based on Native American literature about looking after the land and the stewardship of the earth. Pairing it with the pastoral you get a mixture of old and new, and it is something worthwhile linked to something interesting. It's a winner."
"It couldn't be more relevant, and we've created an education pack for teachers so we can take it out into the schools."
He is also breaking down the barriers by talking directly to his audience at concerts because there are many that don't want to read programme notes but hear a two minute precis of what the music is all about.
"A quick chat to audiences brings authenticity, telling them what to listen out for. No longer than two minutes. I want to break down the barriers I just chat I don't lecture and then turn round and crack on with it."
Our coffee is getting cold, and Ben needs to get back on his train and prepare for Harewood House and as he points out he is composing a new Yorkshire overture and he hasn't started yet.. We could get bogged down discussing themes but for now he adjusts his sling and leaves.
Saturday 4th September 2021
Enjoy an evening of opera and classical favourites, including plenty of opportunity for audience participation!
Hosted by Aled Jones with special guests including world-famous baritone Sir Willard White, Sopranos Sophie Evans and Peyee Chen and everyone's favourite three tenors; Tenors UnLimited. Featuring the Yorkshire Symphony Orchestra, conducted by Ben Crick.
​This show features a spectacular firework finale, which has been specially designed to be silent, so as not to disturb the local wildlife.
This was released for Yorkshire Day with a composition by Ben for Yorkshire Day entitled Yorkshire for All.